7 night cruise July 12-19, 2018 on the 144 passenger AmaDolce                                                             
7-NIGHT CRUISE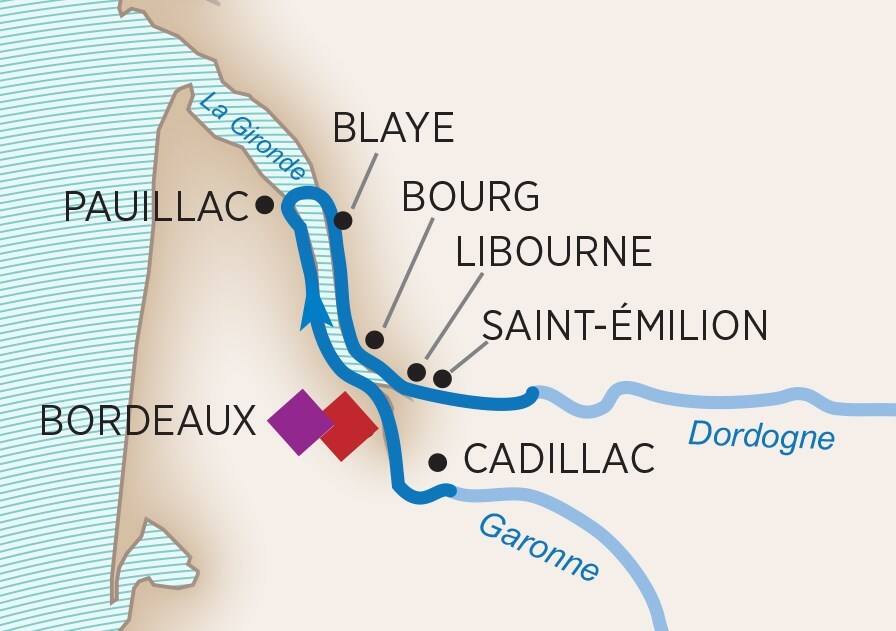 7-NIGHT CRUISE WITH 2 NIGHTS PARIS PRE-CRUISE AND 2 NIGHTS LOIRE VALLEY, 1 NIGHT PARIS CHARLES DE GAULLE POST-CRUISE
CRUISE FROM : BORDEAUX TO BORDEAUX
Start from to Bordeaux, one of the world's undisputed wine capitals. Rich in both history and taste, the Bordeaux region is a wine connoisseur's paradise. One of the largest controlled wine regions in France, Bordeaux is made up of several sub-regions each with its own strictly governed appellation, unique climate and terroir.
Unlike most wines around the world, the quality of Bordeaux wine is determined by these factors rather than the grape varietal. Make your way through the renowned vineyards of Saint-Émilion, Pauillac, Pomerol and Libourne, discovering timeless traditions from the winemakers themselves.
Be treated to a delicious wine tasting throughout your journey, including a tasting at the 14th-century Château de Montaigne, once the former residence of French philosopher Michel de Montaigne, as well as a "wine festival" in Bourg—an exclusive event for AmaWaterways guests. This trip is a must for anyone interested in the best of French culture, lifestyle, wine and food.
COUNTRIES: FRANCE
RIVERS: DORDOGNE, GARONNE
Taste of Bordeaux (Wine Cruise) 

AT A GLANCE

On our cruises, you will enjoy an extensive lineup of included tours. In many cases, you will have a choice of excursions, such as standard tours, bike tours, hikes and Special Interest Tours. We always include a large variety of activities so that you can choose how you want to explore. No matter your preference, your days will be full of discovery and wonder.
Bordeaux *Cadillac *Pauillac *Blaye *Bourg *Libourne *Bordeaux
Cruise price per person based on double occupancy in entry level category $2,849.00 US
(*a savings of $750.00 US per person)
– only applicable on new bookings
– single supplement on request
This cruise is a must for anyone interested in the best of French culture, lifestyle, wine and food.              
Pass timeless vineyards and enjoy delicious wine tastings as you visit Cadillac, Pauillac, Saint-Emilion and Libourne.
Be treated to an exclusive experience in Bourg featuring live French music, dancing, wine and hors d'oeuvres. Most statesroom have a French Balcony an offer a range of amenities including Entertainment on Demand and free high speed internet in addition to a long list of other amenities. As a member of La Chaine des Rotisseurs, you will be treated to exquisite, locally-inspired cuisine always paired with unlimited wine as well as beer and soft drinks with lunch and dinner. Also enjoy a variety of dining venues.
*Not included – air, insurance, tipping, pre or post cruise land arrangements, vessel fuel surcharges, optional excursions as well as Port Charges of $168.00 US per person.
YYZ Travel Group, TICO:#04332359. 7851 Dufferin Street, Suite 100. Thornhill, Ontario L4J 3M4.
Published: 30/11/2017
To Book Your Trip
Contact our Travel Advisors:1.877.999.4768